Monsters Slots
What scares you more? Things that hide in the shadows of your room or the romantic notion of Dracula coming in from the night. The monster within or the predator outside? Whether you fear things that go bump in the night or the sucking of your mortal soul – you will find all the thrills in these great games.
Hunt for Monsters Bonuses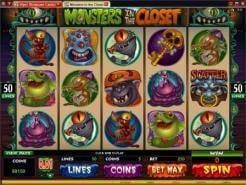 Find 6000 coins with Monsters in the Closet Slot. Brightly colored and loaded with well rendered and whimsical characters, Monsters in the Closet Slots is more likely to excite your thrill of winning than scare you. There are 5 reels loaded with fun characters and 50 paylines to increase your chances of making a winning combination. Find 3 or more Red Eye Ogre Bull Scatter and win 12 Free Spins. Make any complete combination with the Monsters in the Closet Slot Wild Logo Symbol. Use the Skeleton Key to unlock the Monsters in the Closet Slot Bonus, 3 or more transport you to a second game screen where you find monsters hiding in doorways. Pick carefully to win the highest multiplier. Hidden in The Monsters in the Closet Bonus Game are two other bonus games. Choose the Scary Slam icon and launch into the Scary Slam bonus game. Find the Atlas icon and play the Haunted Destination Bonus. Use a ghoulish map to find 4 prize filled locations – the Mummy's pyramid, the Werewolf's chalet, the Vampires Palace or the Yeti's Icy Igloo with multipliers as high as 200x your bet.
Be Bitten by the Winning Bug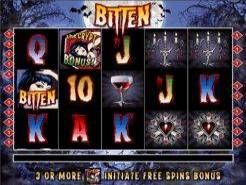 Vampire fans will love Bitten Slots, a darkly rendered game in a romantically gothic style. Bitten Slots has 5 reels and 20 paylines. This game will pull you in with its high quality graphics and sounds, not to mention the bonus features. Set at night against a full moon with bats surrounding you on every side, Bitten Slots introduces you to a lady vampire who will bring you chills and thrills. Drink from a glass of blood and watch for other symbols from this horror-theme-based slot game. Find 3 or more Crypt Bonus Symbols and be magically swooped off to the Bonus Round. Choose your coffin to reveal your Free Spin prize with a 50x multiplier. Retrigger your Free Spins as many times as you like. Get all 5 Bitten Wild Symbols and win 250 times your bet.
Win with Monster Slots
While neither of these games is particularly scary, both are exciting. So whether your Bitten by the vampire bug or want to hunt for Monsters in your Closet, find the perfect game to keep you entertained while you increase your payout.