Pirate Slots
Aha me hearties, it's time to sail the seven seas to try and find some of the best pirate themed slots games online today. You might be amazed at just how many of them are out there. Let's take a look at some of the games you could be winning 'pieces of eight' with very soon!
Pirate Isle Slots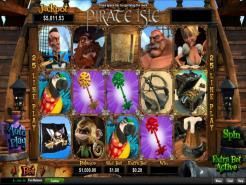 Pirate Isle is a fantastic 5 reel RTG online slot, and this super slot mixes up the treasure hunting with the swashbuckling pirate slots action to deliver a feature and freespins rich slot that's a joy to play. If you're a fan of freespins then Pirate Isle Slots serves up no less than 3 different special freespins bonus rounds, with an amazing 300 free Pirate Isle slots spins ready to be won. The awesome tropical island and pirate style slots graphics are brilliant, with treasure chests serving up the scatter wins as you build your very own pirates slots stash.
X Marks The Spot Slots
Everyone knows that the X marks the spot where the treasure lies, and if you spin the reels and the luck is on your side in this game, you could be on the receiving end of all that treasure. This is a colorful and entertaining slots game with pirates, skull and crossbones and treasure chests to find as well. You will also enjoy the free spins you can claim and also the bonuses that are on offer. Why not try your luck and match the pirates to win?
Pirate Slots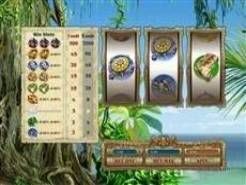 You can play Pirate Slots at Slots Mama, and there are some fearsome bearded pirates to watch out for as well. Watch out for anchors, pirate ships and treasure chests and see if you can line up five pirate ships to win a huge 5000 credits.
Pirate's Paradise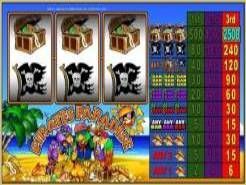 Of course not all online slots games have lots of reels and paylines in play. This particular example has just three reels and one single payline – making it a true online version of the one armed bandit. Once again the treasure chest is the top paying symbol if you get three in a row. If you bet the maximum amount you can get 2,500 credits in return on this draw.
Pirate's Treasure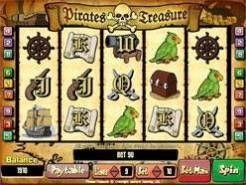 It's probably no surprise that online slots games involving pirates always involve treasure as well. The Pirate's Treasure online slots game is no exception to this, with treasure chests once again waiting to be found. There are also treasure maps and parrots to be found, so all the traditional symbols are definitely here. The pirate himself acts as a substitute, while the treasure chest is not surprisingly the best scoring symbol of them all.
Which pirate themed slots game will you try first?
Before you decide, it is worth remembering that there are other pirate themed slots games out there as well as these. We've just scratched the surface to reveal to all you treasure loving players that there is a lot to play for and discover when you play pirate slots online.